NB! ESTIMATED DELIVERY DATE 30.7
Matt black stainless steel NAKA® towel rack. Suitable for indoor and outdoor use. No need to attach to the wall, the rack is set to lean against the wall, non-slip bottom.
Water and detergents may impair adhesion, it is not recommended to place the rack in the immediate vicinity of the shower.
Manufactured in Finland.
WxHxD 45x175x1.5 cm
14 days return policy.
Delivery costs:
to Finland 5€
to Baltic countries 8€
the rest of the EU area 10€
to Norway and Switzerland 10€, to United Kindom 20€
asiakkaiden arvostelut
05.27.2021
Anonymous

Finland
Pyyhetikas
Pyyhetikas vastasi täysin odotuksia. Pysyy hyvin paikallaan.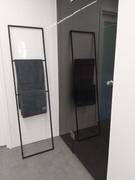 11.12.2020
Miia F.

Finland
Tyylikäs naulakko
Laadukas ja tyylikäs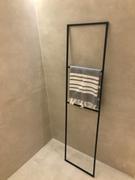 09.09.2020
Tuuva H.

Finland
Tyylikäs ja käytännöllinen
Etsin pitkään pyyhetikasta jota ei tarvitse kiinnittää seinään, sopii kosteaan tilaan ja on kaunis. Tuote täyttää kaikki kriteerit ja kotimaisuus oli ehdoton plussa! Paketissa mukana tullut pieni yllätys oli säväys josta jäi hyvä mieli. Suosittelen ehdottomasti!